Non-Life Insurance January 2019
Insurance Cos to pay heavy compensation to farmers : 
Framers in Maharashtra are likely to receive heavy compensation as from crops damaged due to dry weather in June and floods in September. The outgo may be over Rs. 10000 crore, agriculture ministry officials said.
The claims for this years Kharif, season are estimated to be about Rs. 18,000 crore. Payment for damaged rice, cotton, oilseeds, pulses, sugarcane and horticulture crops will be paid under the Pradhan Mantri Fasal Bima Yoja (PFBY) launched in 2016 in which a farmer contribution only 1.5% to 2% of the insurance cost and the balance is shared by the centre and states.   A senior agriculture ministry official said this year, we have paid a premium of over Rs. 20,000 crore for the risk cover of crops worth Rs. 1.3 lakhs crore. As per the estimations of the quantum of crop losses, we expect a claim payment of over Rs. 18,000 crore.
PSU general insurers lose market share to private insurers :
According to the IRDAI data, the state run general insurers lost market share in 2018-19. The combined market share of PSU's fell to 40.52% in 2018-19 with gross direct premium income of Rs. 68,658.85 crores from 45% in 2017-18. The 28 private sector insurers *excluding standalone health insurers) had a market share of 47.97% in 2018-19 (with gross direct premium income of Rs. 81,287.15 crore) as against 43.42% in the previous fiscal year.
Highest claims settlement record: Is your insurer on this list? 
Private-public general insurers are neck-to-neck in claims settlement.
Public sector and private sector general insurers are in neck-to-neck competition as far as settling of claims is concerned, shows data from the Claims Handbook released by the Insurance Brokers Association of India (IBAI).  For customers, looking at the claims settlement ratio is imperative to decide on the insurer  to buy a policy. Higher the claims settlement ratio and quicker the claims is settled, better it is for the customers.
Figures for FY19 showed that New India Assurance and IFFCO Tokio General Insurance topped the list as far as overall claims settlement is concerned.  Among the public sector general insurers, despite the number of claims filed being more than 2.5 million in FY19, the claims settlement ratio was above 84 percent for all the state-owned general insurers.
In the private sector, insurers like IFFCO Tokio, HDFC ERGO, Bajaj Allianz, Royal Sundaram and Tata AIG had a claims settlement ratio above 85 percent.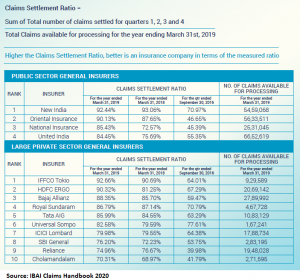 When it comes to health insurance, Religare Health had a claims settlement ratio of 92.58 percent for FY19. The health insurer handled 7,00,596 claims in the financial year and settled almost 93 percent of them.
For the industry as a whole, the claims settlement ratio stood at 85.18 percent for the year ended March 31, 2019. This rose from 80.77 percent in the year-ago period.

However, the private sector insurers scored as far as claims settlement efficiency ratio is concerned. This refers to the number of claims settled in three months of being filed as compared to the total number of claims available for processing.
Among the public sector players, only New India Assurance had claims settlement efficiency ratio above 80 percent in FY19.
Here, HDFC ERGO General Insurance topped the list with claims settlement efficiency ratio with 89.07 percent  for FY19. This improved from 77.55 percent in FY18. For the general insurance industry as a whole, this ratio stood at 74.16 percent for FY19.
Health Insurance Industry needs a separate regulator : 
The existing laws have failed to regulate India's healthcare sector. India needs a medical regulator that is more like a tribunal and not he consumer court.
There is a long list of reported malpractices, negligence, and ethical violations at private hospitals across India. The main reason that these violations are all too common is the lack of strict and uniform regulation of healthcare in the country. There should be a body to oversee healthcare just like there are for telecom and aviation.
IRDAI sets up working group to improve loss prevention : 
The IRDAI has set up a working group comprising 10 members to suggest segment wise ways and means to improve loss prevention and loss minimization in the industry of general insurance.
With the aim of bringing all stakeholders working together towards a common end on a common platform, the regulator has formed the working group.